Introducing: The Candle-Making Kit
A step-by-step guide to make your own Candlefish candles at home!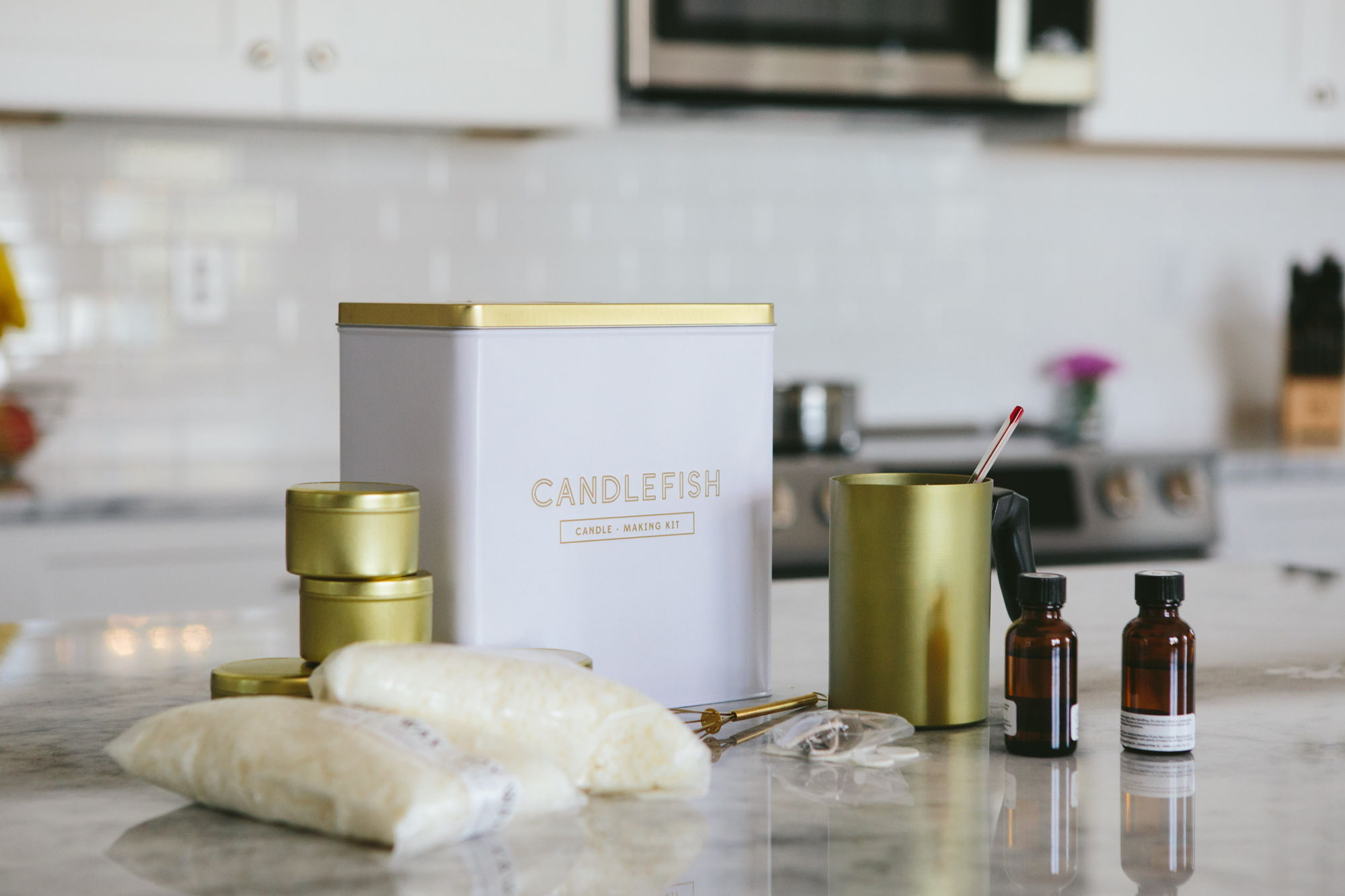 Hey candle fans!
As you probably already know, our candle-making classes (offered at both of our brick-and-mortar stores) give you the chance to learn the art of candle-making hands-on. For those of you not heading to Atlanta or Charleston anytime soon, we've got you covered with our Candlefish Candle-Making Kit.   Our kits provide you with everything you need for easy at home candle making using two of our exclusive Library fragrances. It's just like a candle class, but wrapped up in a pretty white and gold tin. These kits make a great gift for all of your DIY friends, or for any junior chandler in your life who isn't quite old enough to take a class!
Want to know more? See below for a step-by-step guide from Chandler Cat, and see just how easy (and fun) candle-making can be!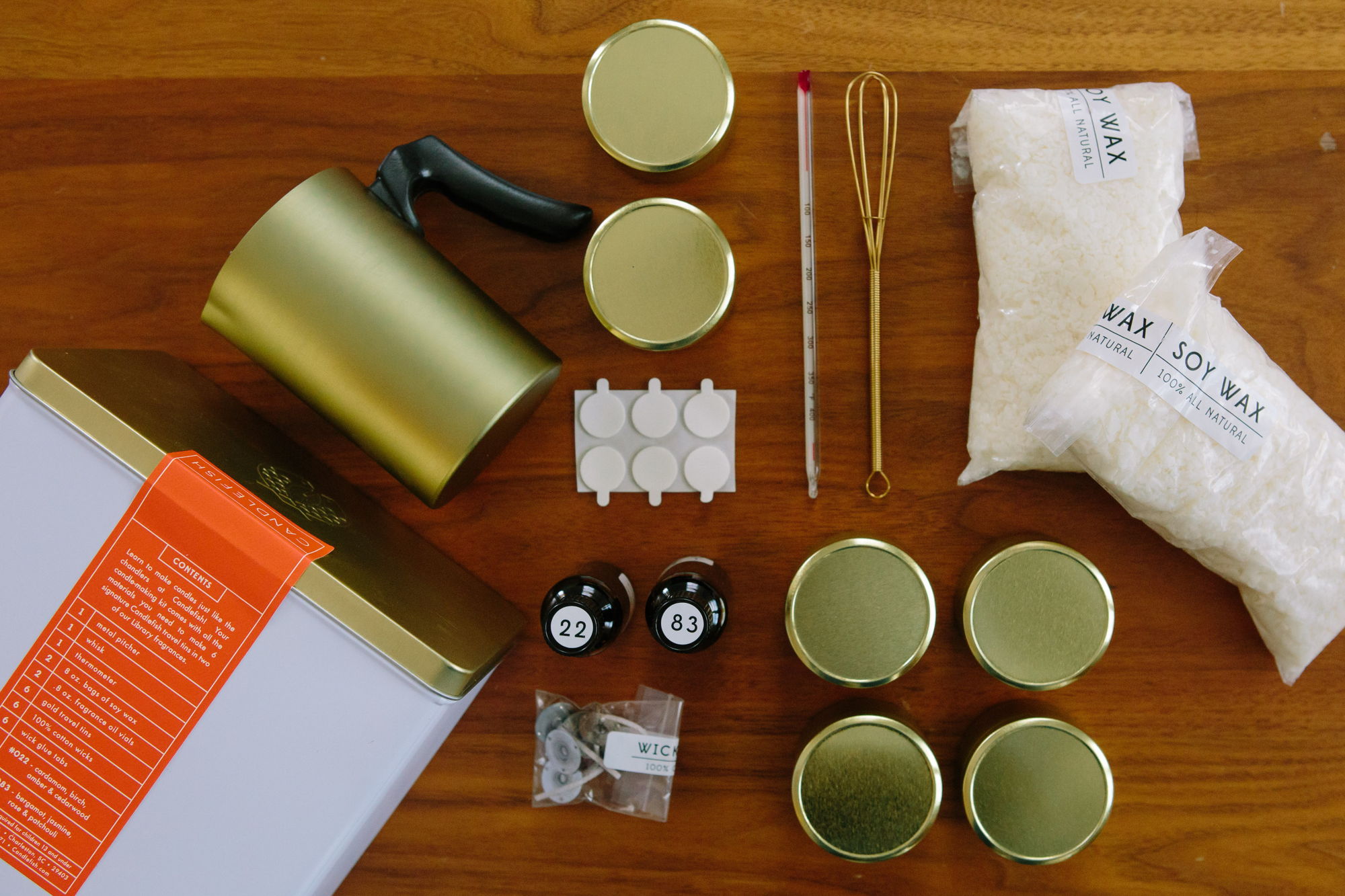 STEP 1: Set-up your work space. It's best to set out everything you will need before mastering the art of candle-making. To pour your first fragrance you will need:
From your kitchen:
1 small saucepan*
A rag for spills
From your Kit:
1 metal pitcher
1 thermometer
1 - 1/2 lb bag wax
1 - 1/2 oz bottle fragrance oil
3 gold travel tins
3 100% cotton wicks
3 wick glue tabs
*We suggest using a saucepan that you don't plan to use again, just in case there is wax residue left behind after your candle-making adventure.
STEP 2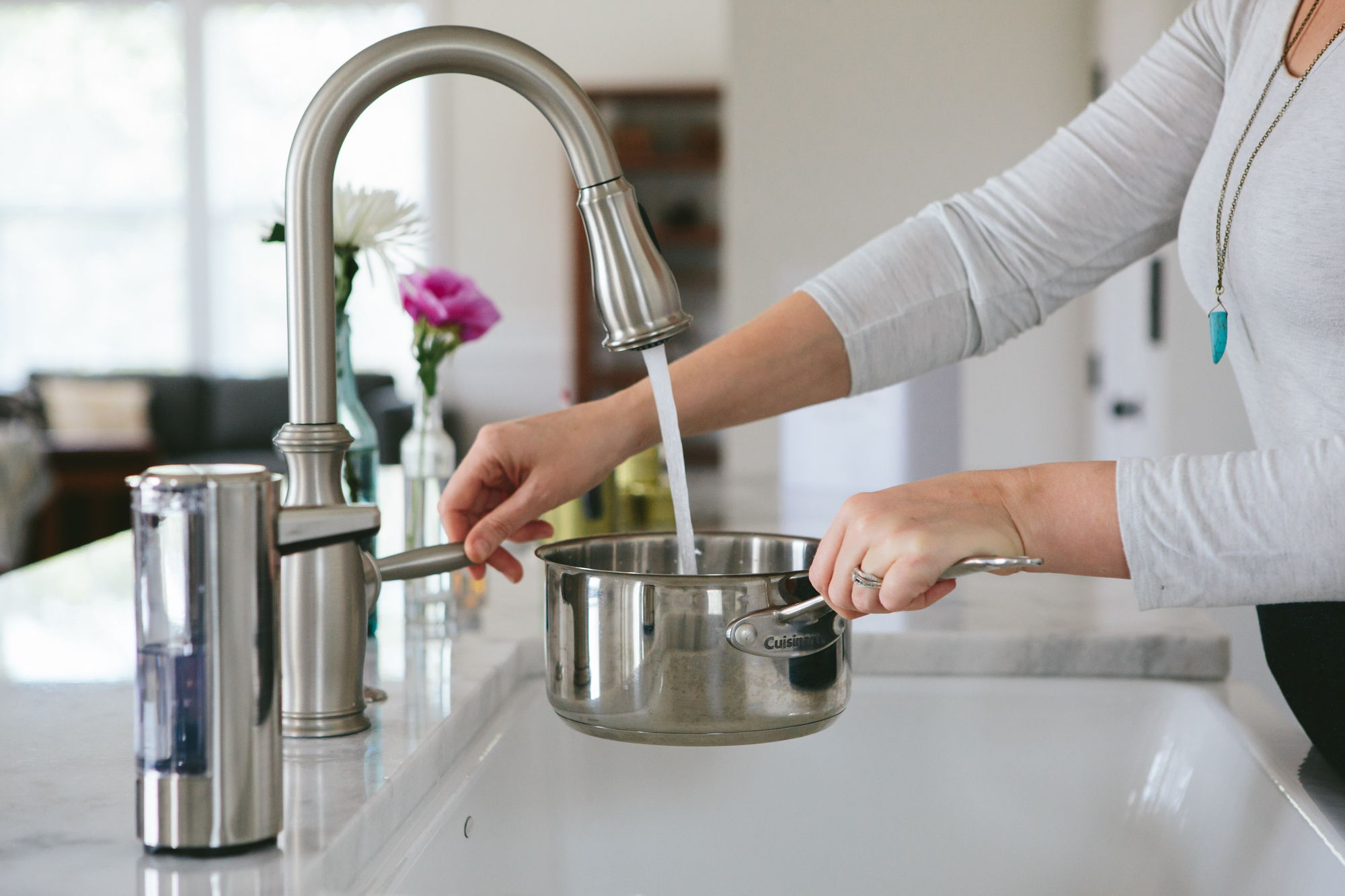 2. Fill the small saucepan halfway with water and place it on the stove top. Turn on the burner to medium heat.
*Be extra careful if using a gas stove top. Wax or oil dripping on the open flame can be a safety hazard.
STEP 3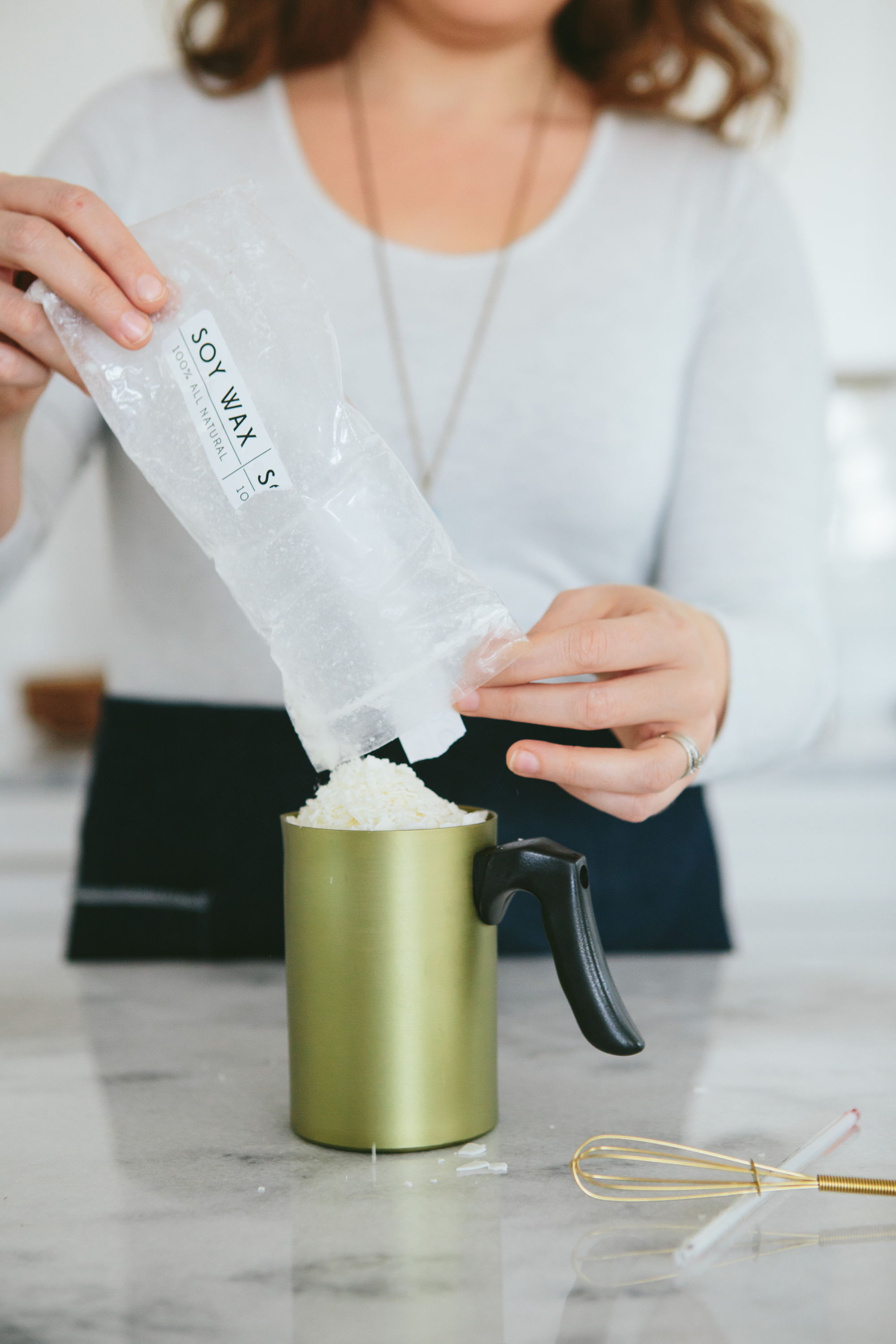 3. Fill your metal pitcher with one of the half pound bags of soy wax from your kit and place the pitcher in the pot of water. The double boiler you have made will allow the wax to melt safely.
CHANDLER TIP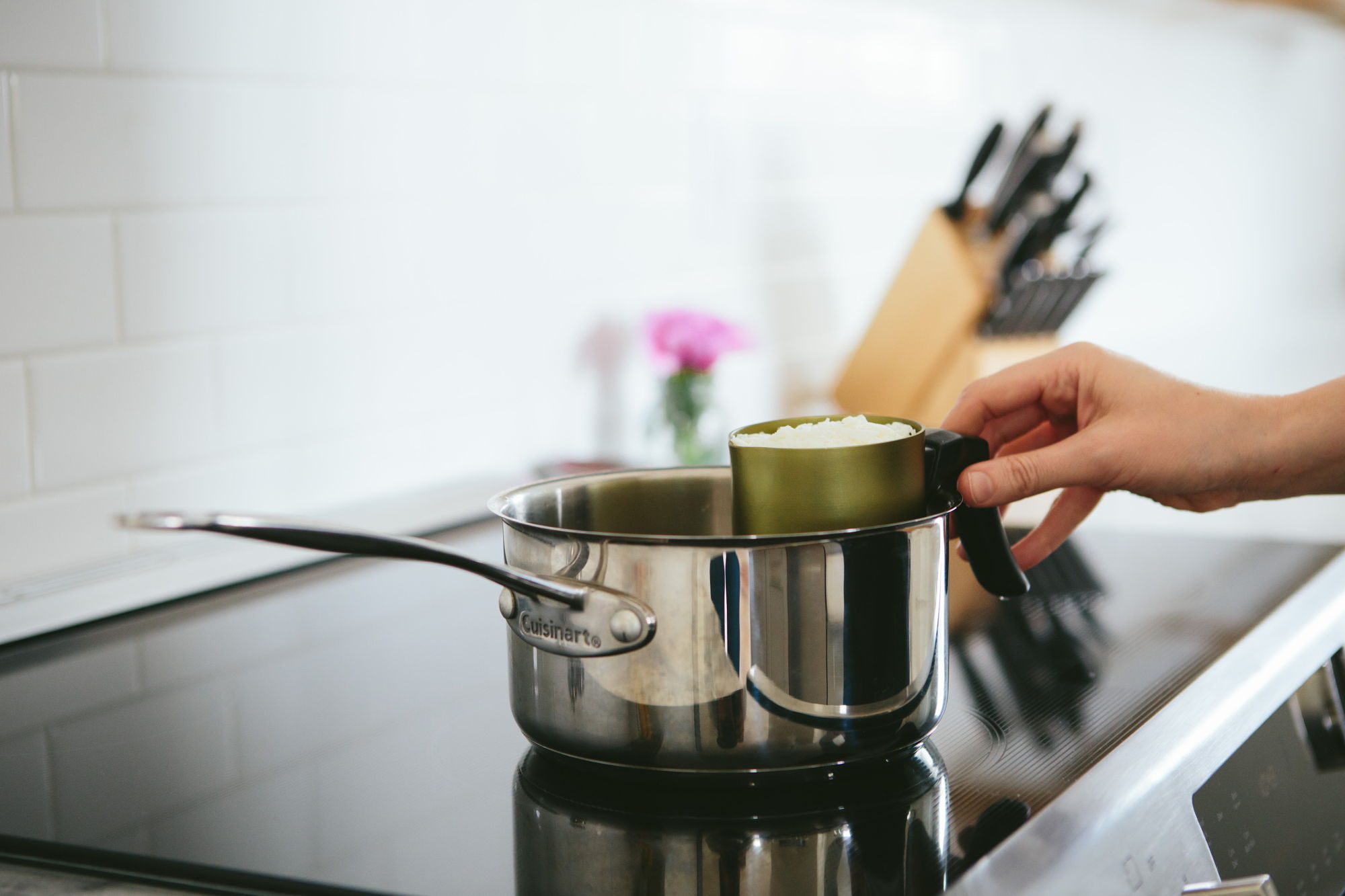 CHANDLER TIP: We suggest placing the handle of the pitcher over the side of your saucepan to keep the pitcher straight, as pictured above.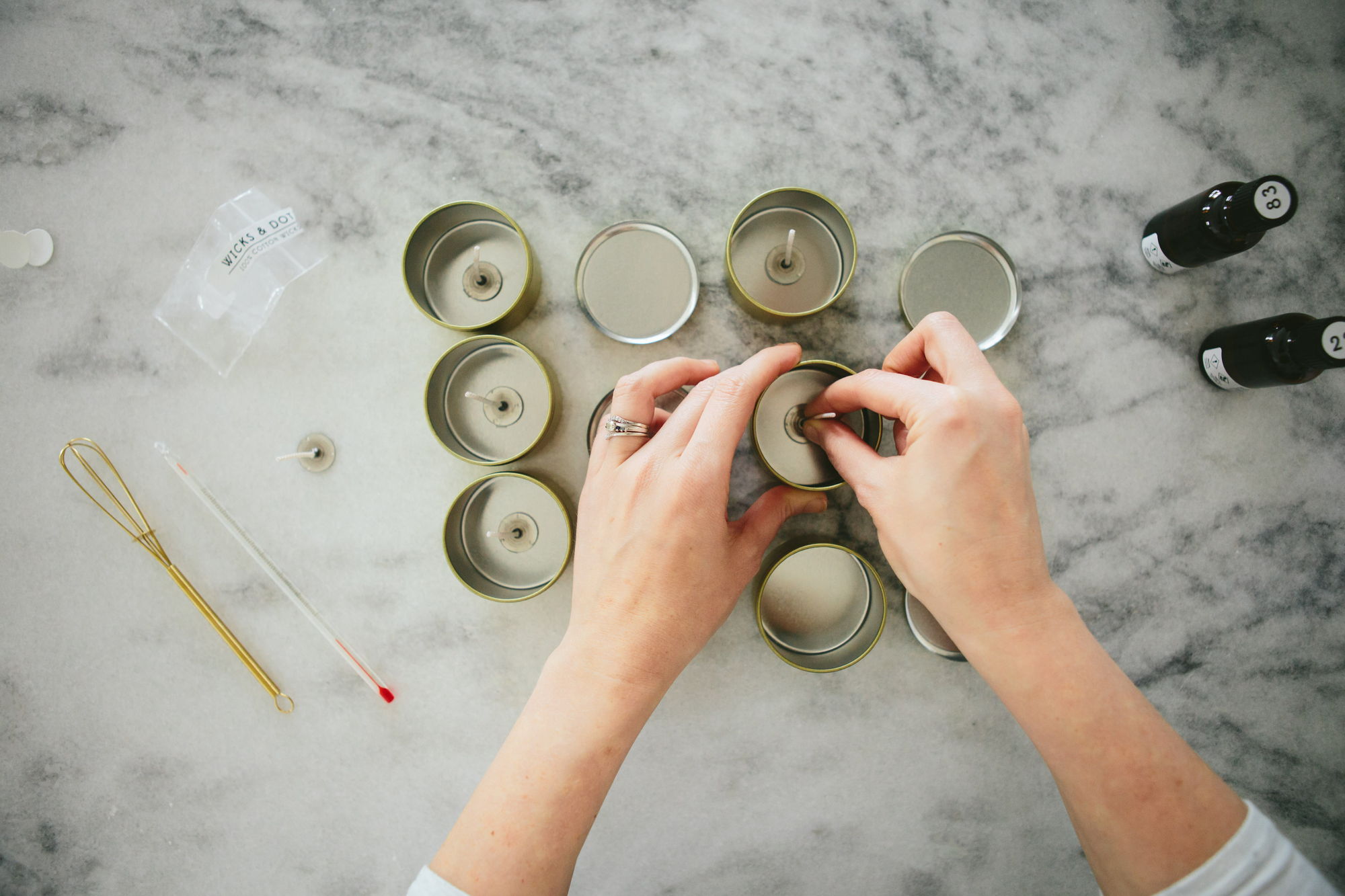 4. While the wax is melting, prepare your tins: attach the cotton wicks to the center of the bottom of your tin using the glue dots provided in your kit.
CHANDLER TIP:
Pull the wicks straight so they stand straight up.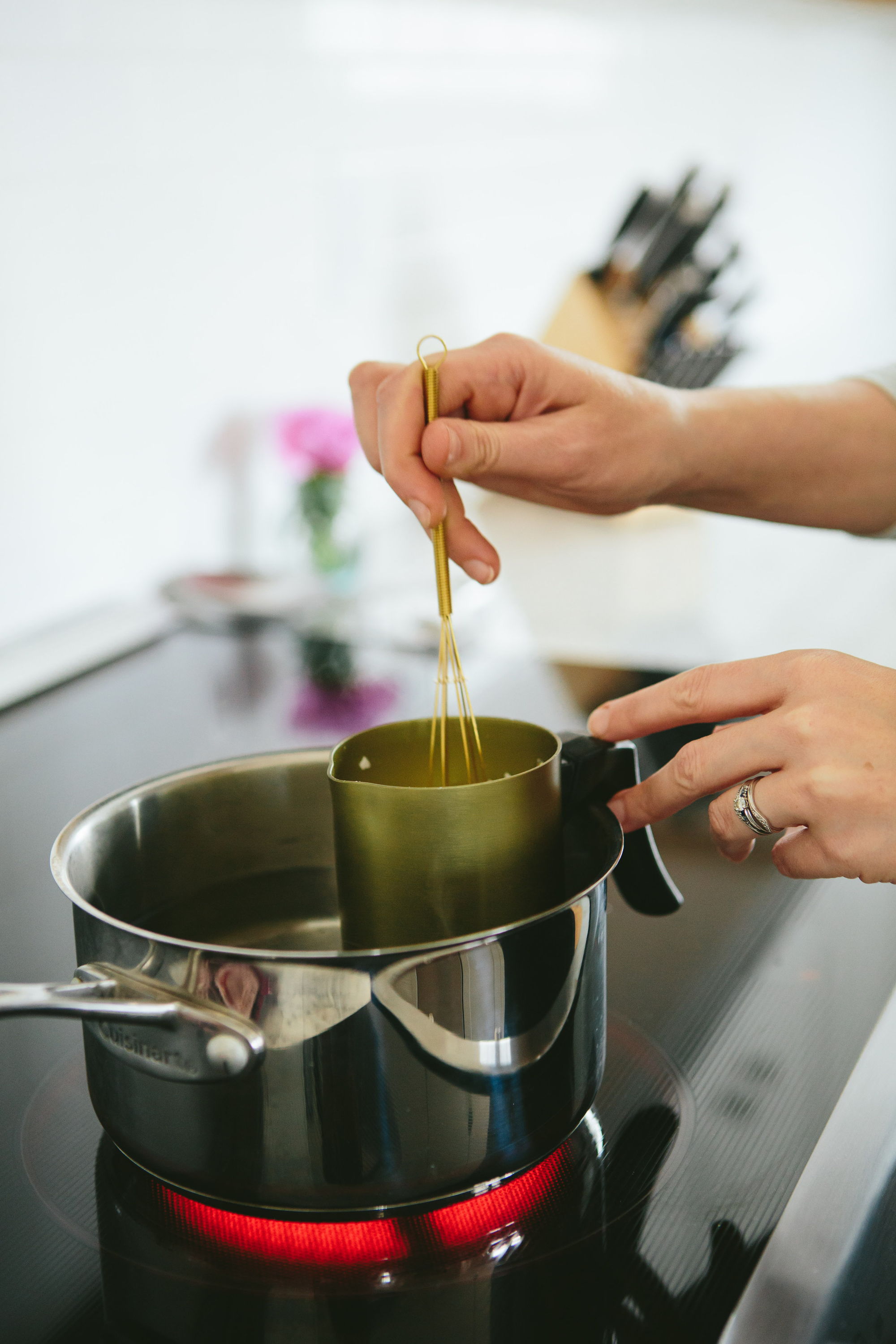 5. As the wax melts, use your whisk to slowly stir the wax periodically (this helps the wax melt a bit faster).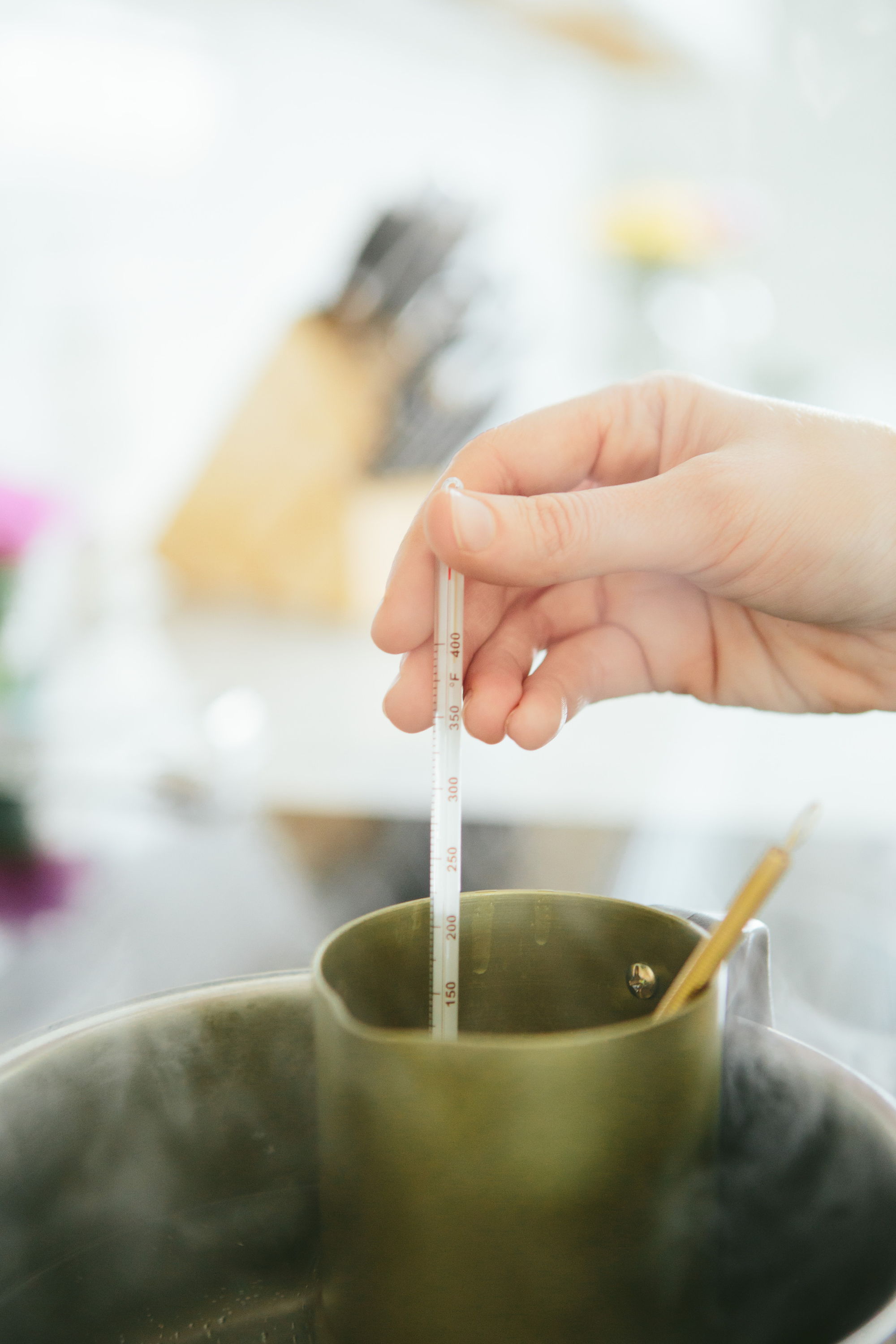 Once the wax is completely melted, check the temperature using the thermometer from your kit. Once the wax reaches a temperature between 185-190 degrees, remove it from the heat. If it gets hotter than 190, remove from heat and allow to cool to 190 before continuing to the next step.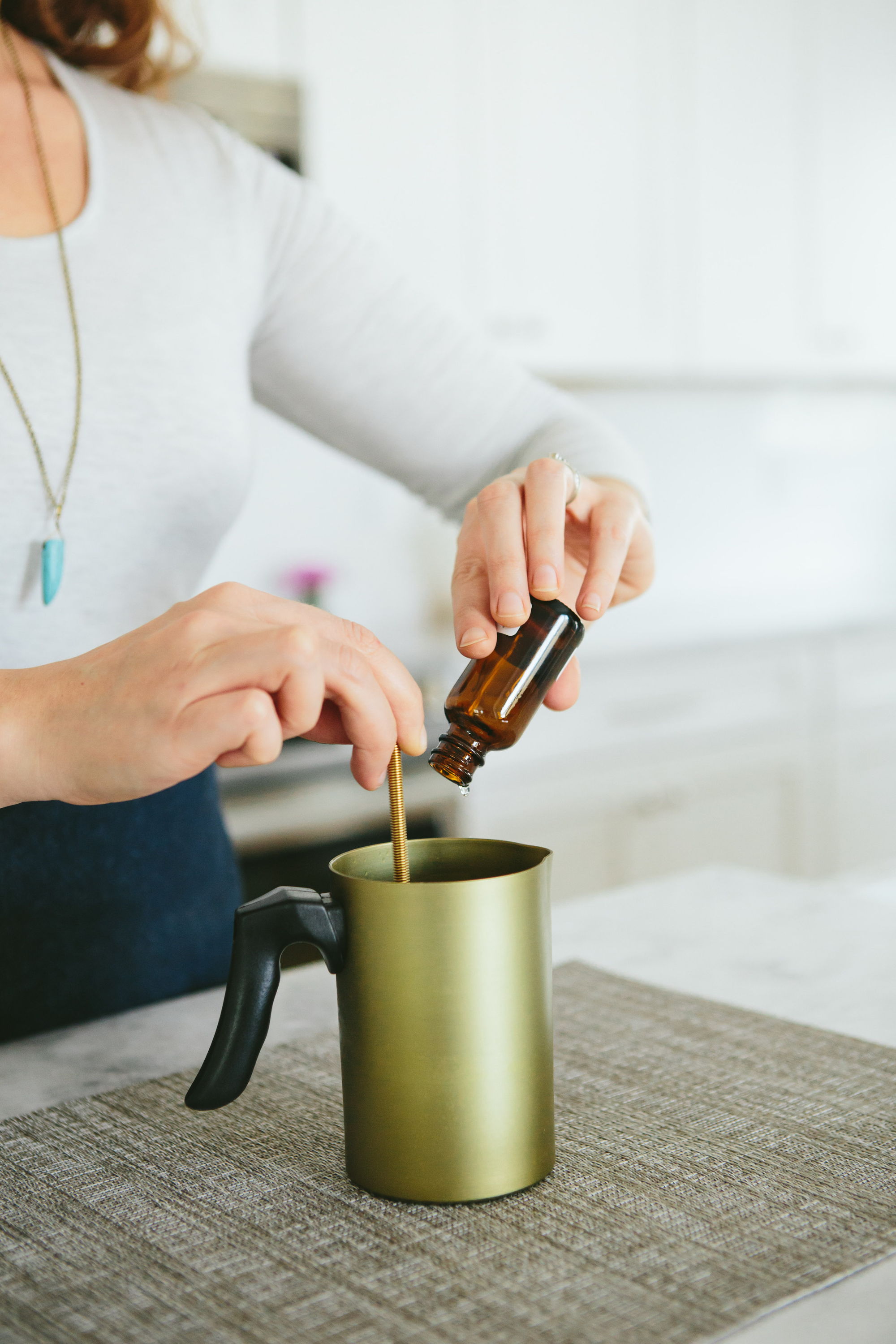 6. Once your wax reaches 185-190 degrees, it is at the ideal temperature for adding the fragrance oil. You can now add one of the bottles of fragrance oil in your kit (use the entire bottle), and slowly mix with your whisk.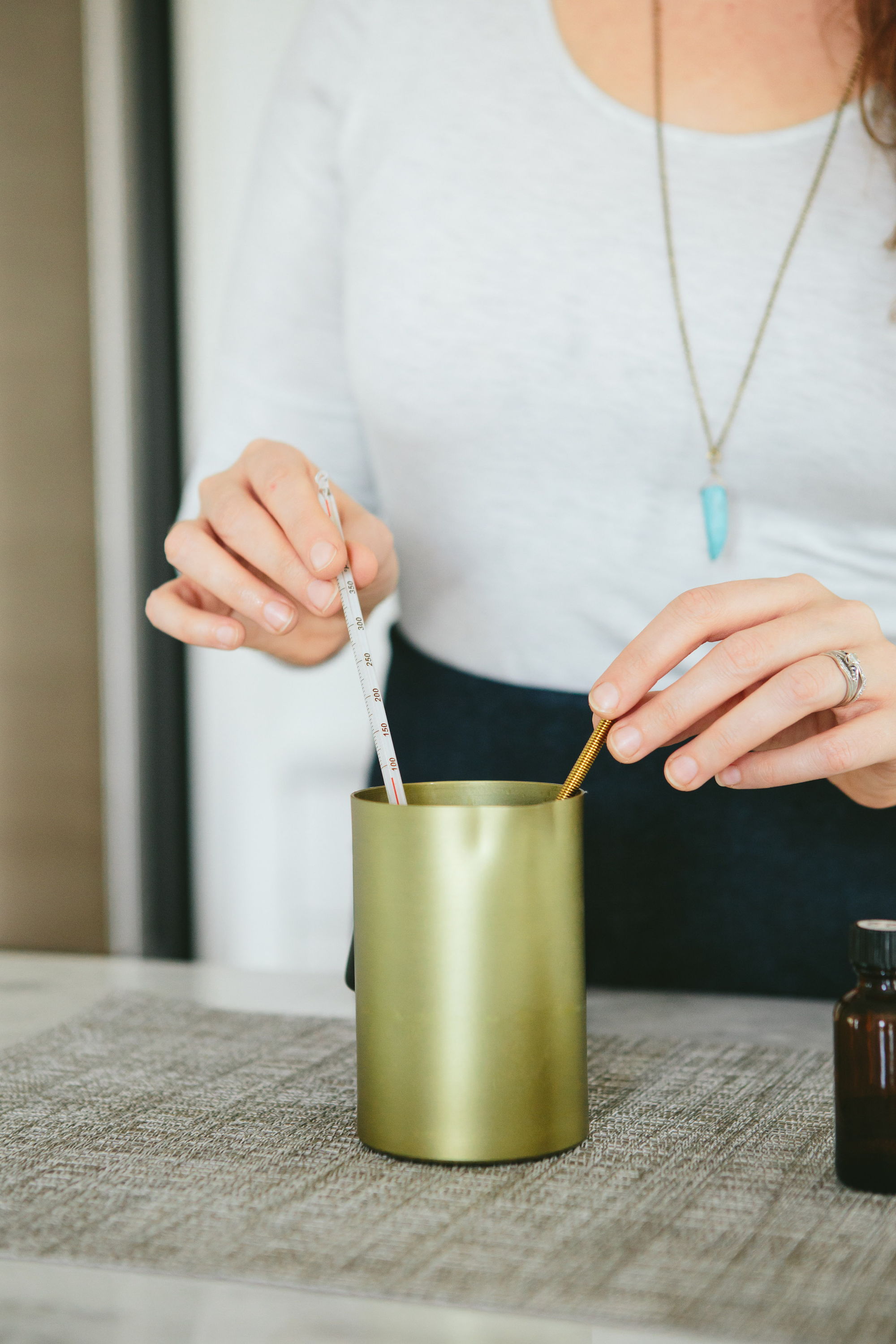 7. Next, we want to allow the wax and oil to cool together to a temperature of 115 degrees before pouring. While your wax is cooling, you can do a little dance while you wait, or maybe brainstorm the name of your future candle brand.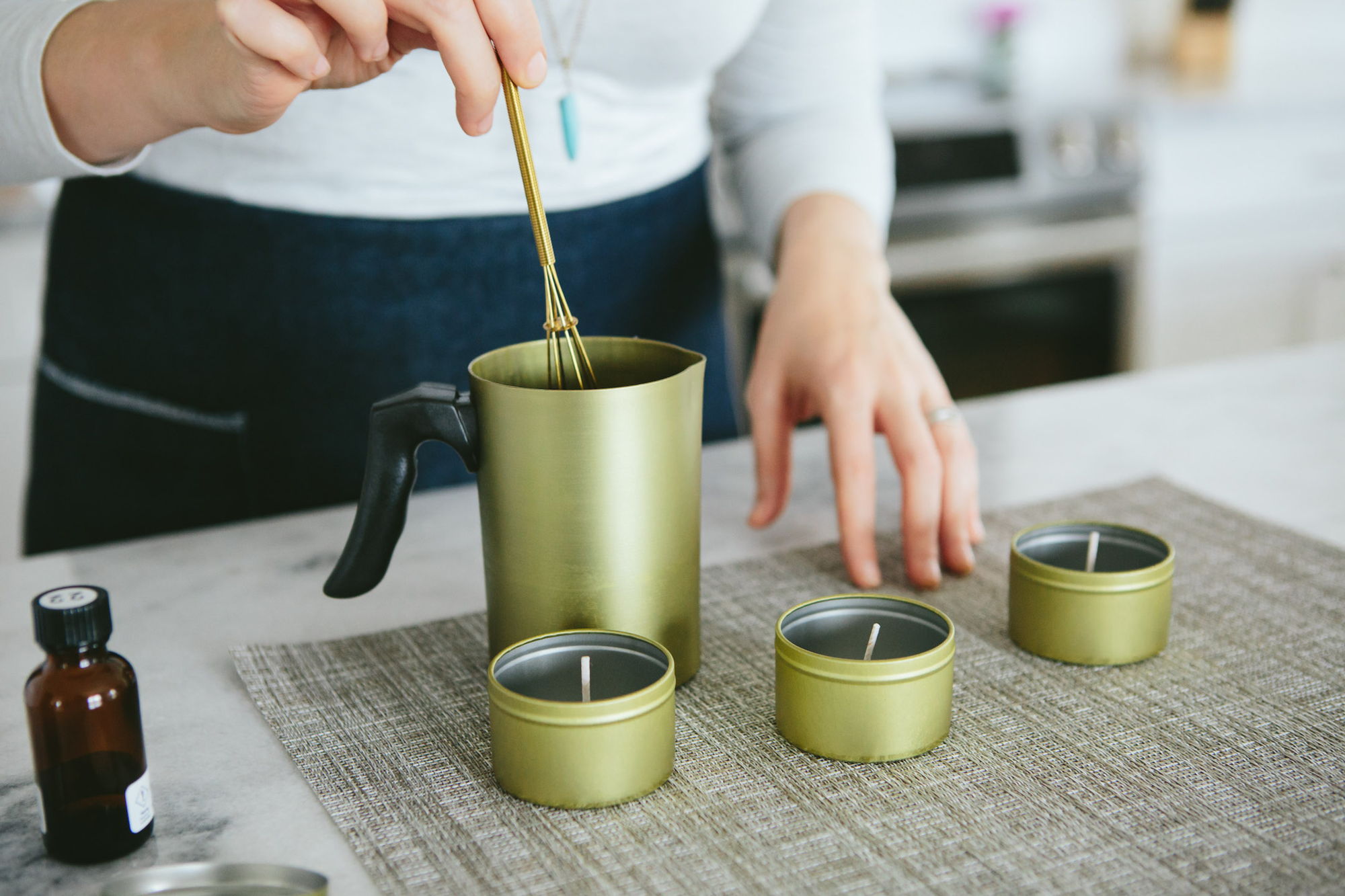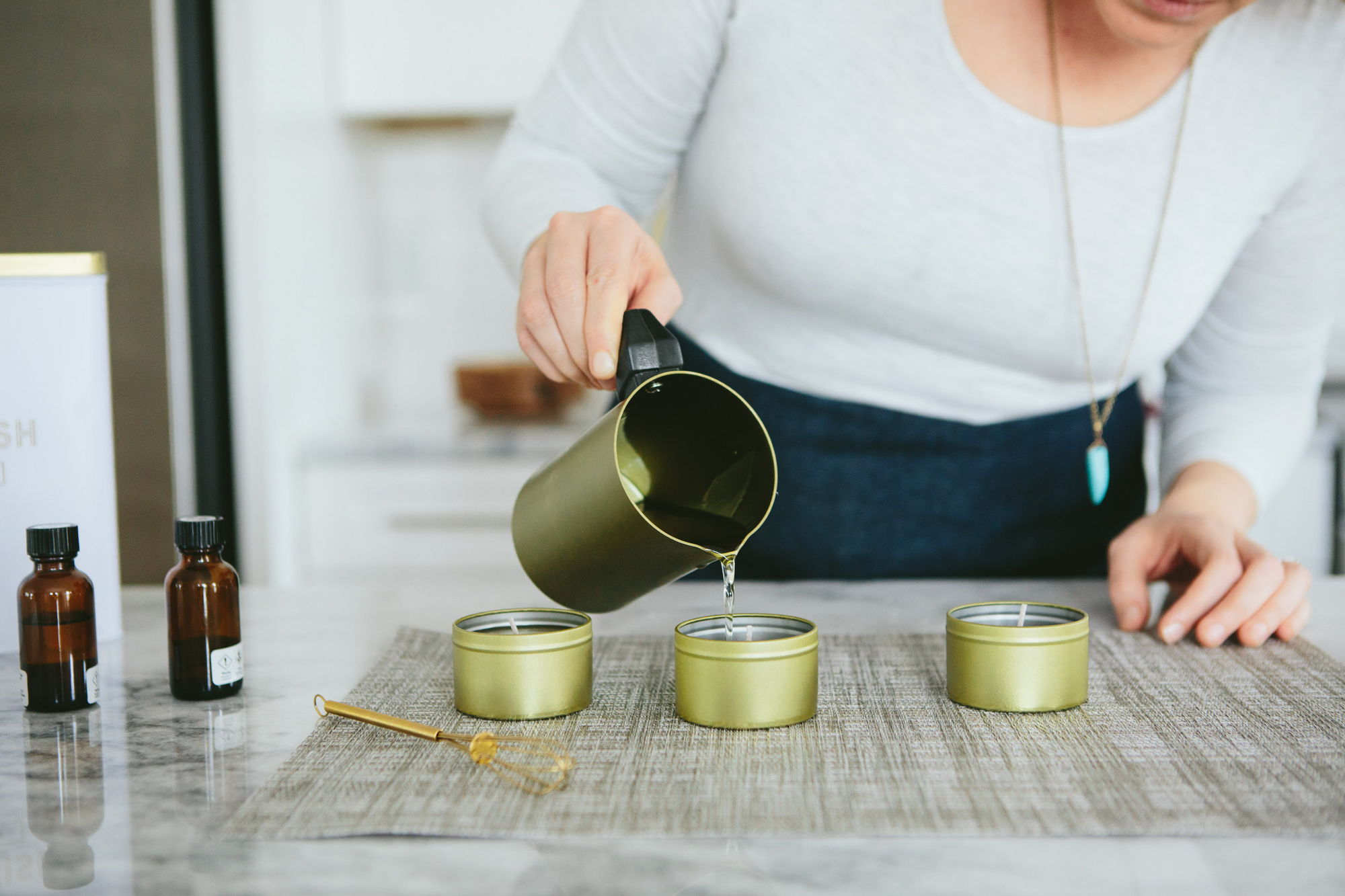 8. Once the wax has cooled to 115, it is ready to pour! Before pouring, be sure to give your wax and oil a final stir with your whisk. Then fIll your 3 tins with the wax, using the small indented line near the top as your fill line.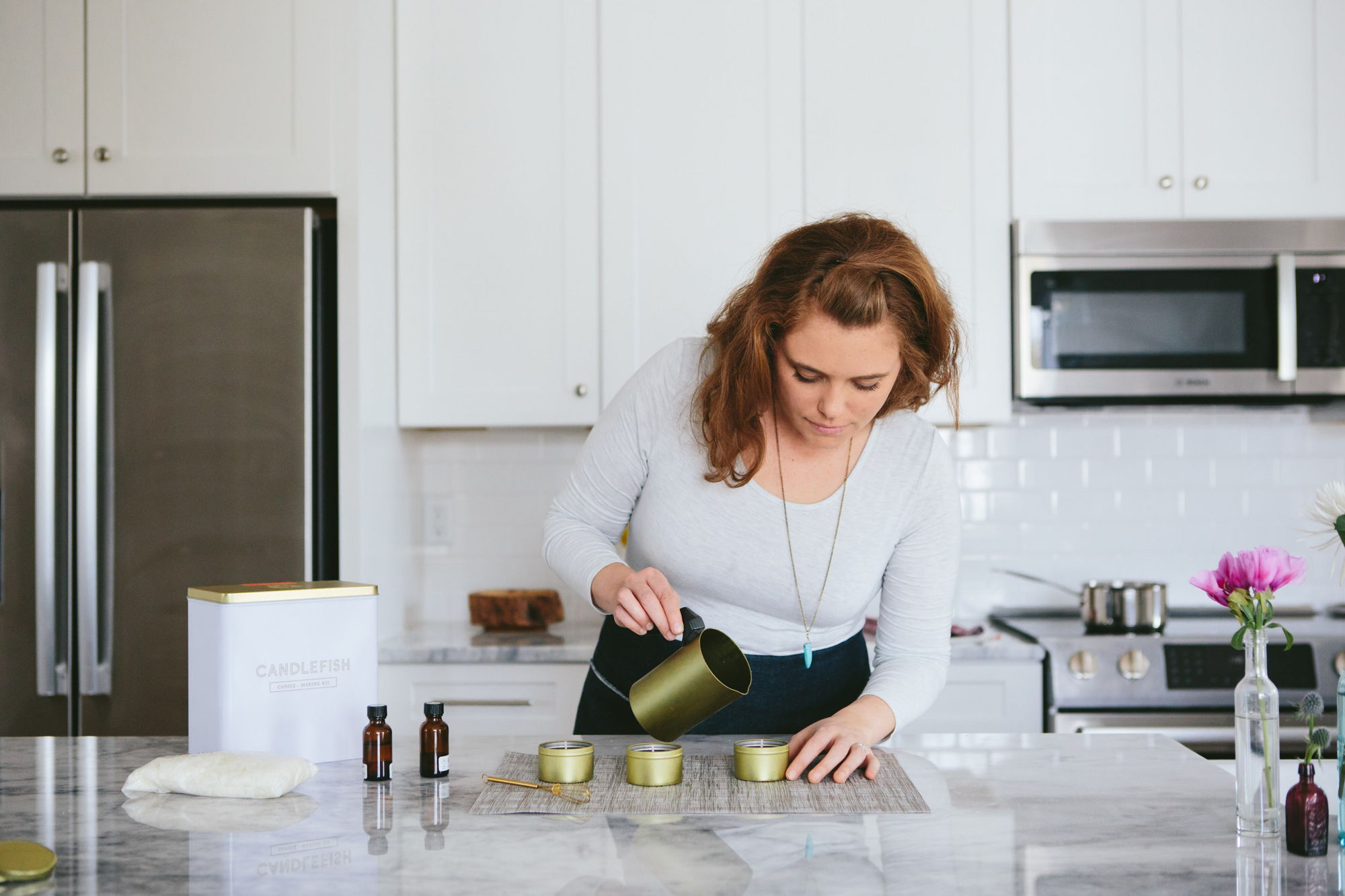 After pouring, gently pull the wicks back to the center of the tin before leaving to cool.
9. Wash your wax pitcher with hot water and dish soap and completely dry before starting batch #2.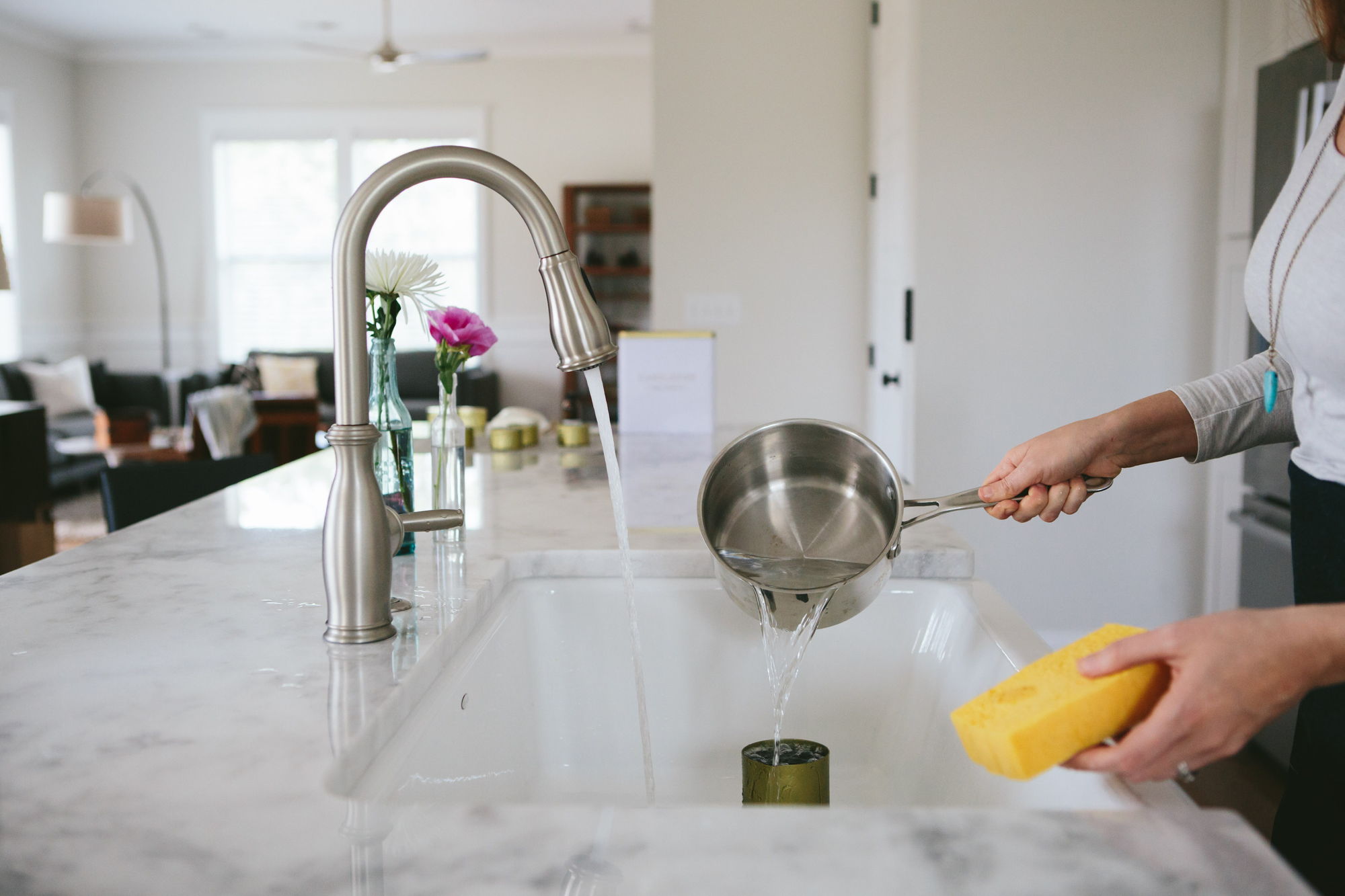 CHANDLER TIP: For easy clean-up, place your wax pitcher in your sink and pour the hot water (carefully!) from your sauce pan into your wax pitcher. This helps break up the wax. Be sure to let it cool before washing with a soapy sponge.
Repeat steps 1-9 with your second fragrance to pour your remaining 3 tins.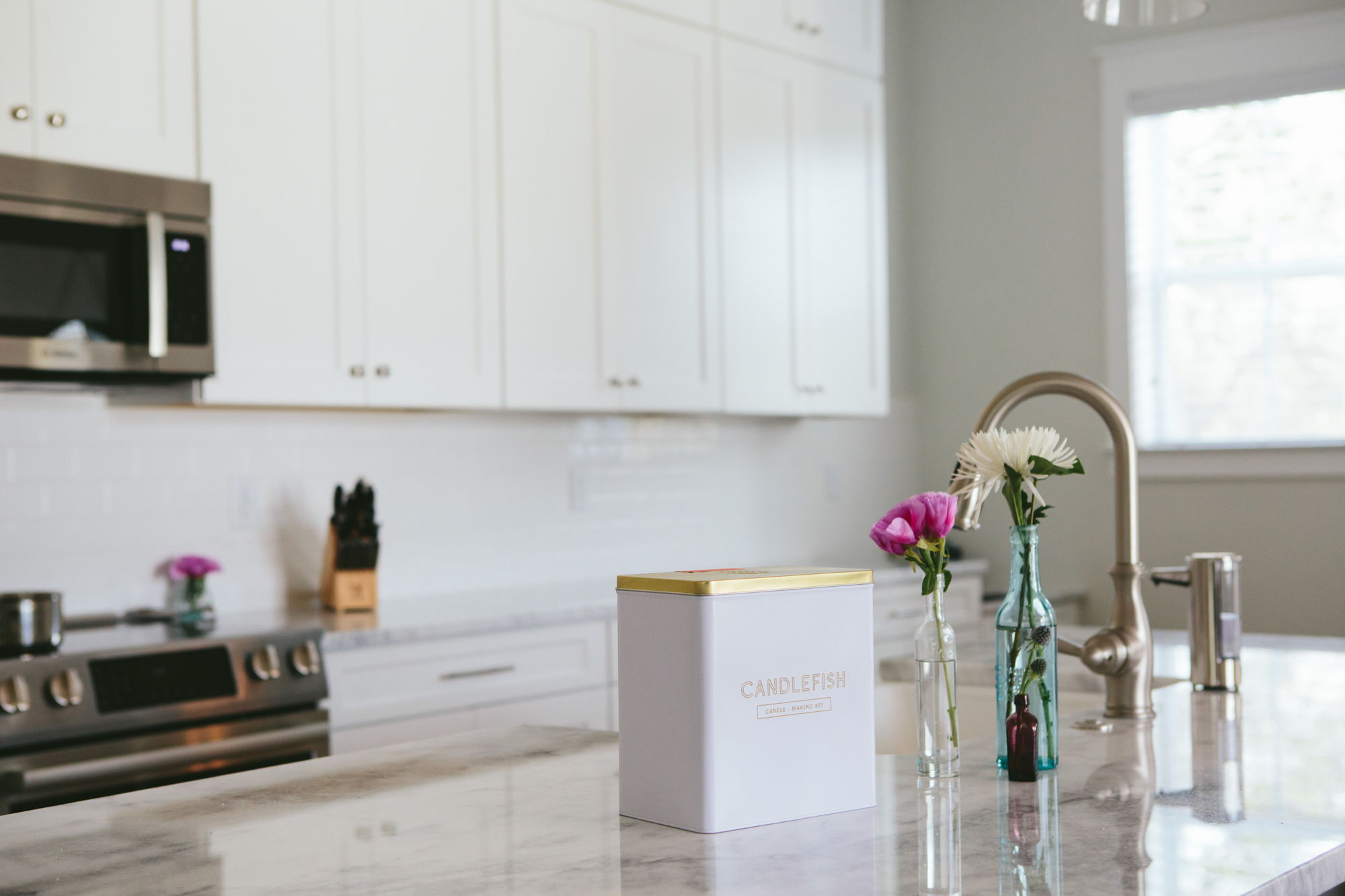 STEP 10:
10. Allow your tins to cool for 24hrs before lighting, for best results. Then light, enjoy, and say yay! Congrats, you're officially a chandler!!
}